A vibrant and intimate bay forms the Festival Street of Nor-Shipping Island, creating a melting pot for social networking throughout the week. We welcome you to experience the open and social atmosphere that characterize our maritime community and clusters.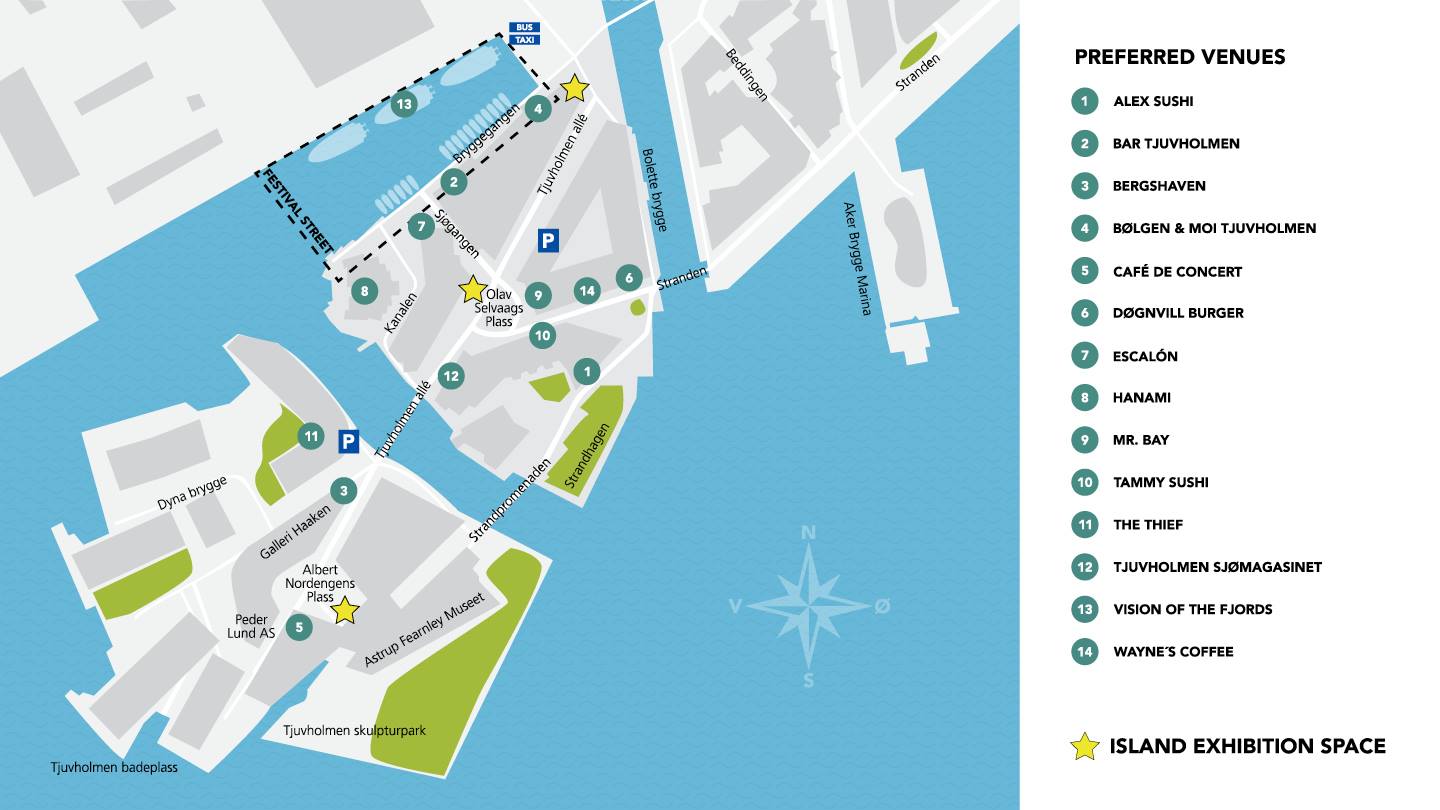 DELEGATES LOUNGE
Festival Street is open for all official delegates, and is our way to honor and celebrate the thousands of people who man the exhibition stands throughout the week. With no entrance fee for official delegates, special Nor-Shipping prices on selected items at and a low-key atmosphere, you will not need a special invitation to enjoy the conversations and entertainment of this social hub. The Nor-Shipping Delegates Lounge at BAR Social Eating will be open for all the entire week.
Please see the Nor-Shipping programme for detailed information on what happens in the Festival Street
CENTRAL LOCATION
Nor-Shipping Island offers a prime city center location within easy walking
within easy walking distance distance of anywhere in central Oslo.
Tjuvholmen is known for its contemporary architecture, high-quality restaurants and art and now also its brand new design hotel, The Thief. The popular Aker Brygge wharf area is also right at its doorstep.
PACKAGE DEALS & PLANNING
Our venue partners will offer various packages of wining, dining and additional elements you should require to set the right atmosphere and touch to your event. In addition to the land-based venues, there will be a number of yachts and day-cruisers of various sizes available for full- or part-day chartering alongside the Festival Street.
We know how busy our partners & exhibitors are prior to Nor-Shipping, and aim to enable you to enjoy the facilities of a professionally organized festive area, at the same time reducing costs and workload associated with your client events.
BOOK YOUR EVENT
Festival Street is the optimal venue to meet and greet before departing for the Nor-Shipping BBQ at DNV or other VIP events, to drop by between events, or to enjoy a night-cap after your formal commitments. Reserve your event venue today to be in the center of it all! Venues are also open for lunch reservations, based on capacity. Please see Preferred Venues or the brochure below for venues and contact details.
ONBOARDING @ NOR-SHIPPING ISLAND
We have reserved the entire guest harbor alongside the Festival Street, where our exhibitors and partners can reserve space for their own private events and meetings. This option provide the opportunity to fully enjoy the atmosphere and festivities of the Festival Street, and still set the scene for client meetings and VIP gatherings for selected business partners. Catering can be provided by the onshore venues upon request.
A range of various vessels, including the one-of-a-kind 60ft Galactic Viking and the Vision of the Fjords, are among the boating venues open for reservations throughout the week. For companies planning bigger events, we have a limited number of open slots for bigger vessels along the quayside. Rules of order for the Tjuvholmen marina.
Surrounding events span across a range of ships and quay-side venues. Highlights include Mission to Seafarers Fun-Run, , the official Closing Party, the Nor-Shipping Regatta and Young@Nor-Shipping.
THE MISSION TO SEAFARERS FUN-RUN
This exciting challenge will see runners taking on the course to raise £100.000 to help support seafarers and their families in times of crisis. Learn more and participate.
TJUVHOLMEN WATER SPORTS FESTIVAL
Following the Nor-Shipping week, Tjuvholmen Water Festival will take over Nor-Shipping Island, bringing the maritime theme to the general public. Gathering a range of maritime athletes and competitions in the quay area, the festival is organized for those who want to watch sports at the highest level in Olympic disciplines, and test a range of activities.
Highlights include sailing regattas, kayaking & swim races, seafood sampling and concerts, as well as the opportunity to come aboard various ships and boat.
REGATTA: NOR-SHIPPING PURSUIT RACE
Cooperation between Nor-Shipping and Oslo Water Games. The race is followed by an informal sailor's gathering and award ceremony. Start from Tjuvholmen, Oslo 2nd June 2017. Skipper meeting 14:00 hours, and first start 15:00 hours.
Entry is open for all boats with a valid handicap certificate, and a skipper connected to the shipping industry, be it shipbrokers, lawyers, engineers, shipowners, agents or others.  We will help charter boats for teams from abroad or others that do not have their own.
The race is a pursuit race where all boats are starting according to their calculated handicap. The first boat to finish will be the winner of the regatta. There will be perpetual trophies for different categories.
Entry fee NOK 1000 per team
After Sail Party
Informal sailor's gathering and award ceremony.​ The After Sail party will be held at BAR Social Eating at Tjuvholmen.
For entry and further enquiries:
mikkel@oslowatergames.no – tel + 47 907 56 365
paal@oslowatergames.no . tel +47 928 24 447
NOR-SHIPPING SCULPTURE PARK
As we gather the world's finest ship & equipment design in Oslo, we invite our exhibitors to showcase their technology also in the city centre. At three different areas within Nor-Shipping Island, we have reserved spots for propellers and equipment. The spots are marked with red stars on the map above.
The spaces of 3x4m can be booked for exhibiting maritime equipment. The area weight limitations require the equipment to be transported in to the area at a car of maximum 8tons axle weight pressure. Exhibition Space NOK 95.000. For booking please contact Birgit Liodden.
Read more in the Nor-Shipping Island & Festival Street Brochure and the Preferred Venues brochure